Amy Wardle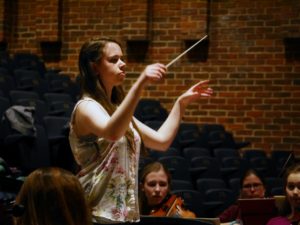 Amy is a music finalist, first study pianist, violinist and soprano. She started learning piano age 7 and violin age 9, and whilst at school was a member of both the Bristol Ensemble Training Orchestra and the Bristol Pre-Conservatoire, through which she worked with musicians including Jonathan James and Charles Hazlewood. Upon leaving school she was awarded the Fred Pope prize for Music from The Red Maids' School and the Special Award for Music from the Guild of Guardians, presented by the Lord Mayor of Bristol.
At University she currently studies piano with Duncan Honeybourne, and was part of last year's Showcase Programme. She performs with the university Symphony and Chamber Orchestras, and has previously been part of the university Chamber Choir and Light Opera Society, most recently playing Yum-Yum in The Mikado. She has also played in pit bands for Showstoppers, the University Musical Theatre Society, and ENCORE Youth Theatre in Winchester.
Amy began studying conducting in her second year with Robin Browning, and musically directed the Light Opera Society's production of Fiddler on the Roof in February 2016. Next year she will be returning to ENCORE Youth Theatre to conduct their production of Fiddler.