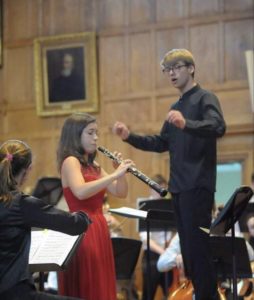 Assistant Musical Director: Rob Arthur
Born in London, Rob left Rugby School in 2018. Having had a short-lived career in cello playing before Rugby, he soon realised that his passion and expertise lay in horn playing and took it up just before arriving at Rugby.
Rob attended the Royal College of Music Junior Department where he studied with Francesca Moore-Bridger. As well as performing in choirs and orchestras at school and college, he has played with a number of orchestras outside as well. Tours have taken him to Germany, France, Malta, Slovenia, Spain and the USA and he has performed at prestigious concert venues including The Royal Festival Hall, The Royal Albert Hall, Cadogan Hall, St Johns Smith Square, St James' (Pimlico), Theatre Provence and Carnegie Hall.
He looks forward to working with the orchestra, despite the challenging times
Academic Year 2021/22
The application for our next SUSO AMD closed on 28th May 2021.
Please find look out for any vacancies for future academic years should you wish to apply.