Susanna Riddell – orchestral conductor with a special interest in working with music conservatoire students and young musicians.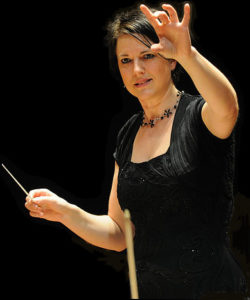 As a cellist with the London Philharmonic Orchestra, Susanna has gathered over 20 years' experience of working on the international stage, with world class conductors and soloists. She was appointed to the position of Director of the Centre for Wessex Young Musicians and the national award winning 100 member Wessex Youth Orchestra (based in Poole, Dorset) in 2007.
Continuing to build on her conducting career, Susanna has discovered an appetite for tackling major works by the likes of Shostakovich, Prokofiev, Rimsky-Korsakov, Mussorgsky, Holst and Mahler. No stranger to large venues, she has recently conducted in Birmingham's Symphony Hall, London's Royal Albert Hall and Royal Festival Hall, has directed "Side-by-Side" (professional/youth) orchestral projects in Sussex and Essex, and has now turned her attentions towards London's music conservatoires with a Vladimir Jurowski/Prokofiev project at the Royal College of Music and more recently chamber orchestra performances at Trinity College of Music.
She was appointed as the new Music Director of the Southampton University Symphony Orchestra in 2016 and she looks forward to guiding this long established, large ensemble along its continued musical journey, and adding to SUSO's impressive list of exciting concert projects in the future.