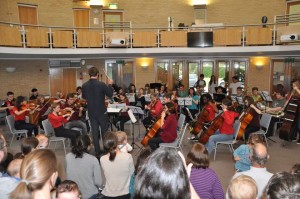 We were very excited and honoured to be asked to perform in the Baby Proms in Hedge End on the 5th November 2015.
The philosophy of the Baby Proms is as follows:
"At Baby Proms, we believe children should be allowed to experience and enjoy music recitals, without pressure to sit still or keep quiet. And we believe adults should have the opportunity to enjoy a quality concert without worrying about their baby or child being.. well, a baby or child!
We have created a monthly concert series to showcase a variety of instruments and musical styles, allowing you and your little ones to enjoy music in a relaxed and informal setting. Children are welcome to sit, crawl, toddle, dance, nap, feed, ask questions, cry, sing along or play with their own toys whilst the music washes over them."
We enjoyed putting together a programme that demonstrated a whole range of different orchestral textures and sounds, with some well-known children's music as well as some that the adults recognised. Within the performance we also demonstrated each instrument of the orchestra, and the differences between them.
Some comments from parents included:
"Thank you very much. We thought it was brilliant. My daughters loved seeing all the different sections of the orchestra and especially enjoyed the Frozen medley (surprise surprise!!)."
"It was absolutely amazing! Thank you for a great morning"
"You were brilliant. Thank you for creating such an enriching and beautifully sounding experience for my daughter and I am sure that goes for many of the other children too!"