The Southampton University Symphony Orchestra is run by an annually-elected committee of players. The 2016/17 committee consists of:
President: Thomas Kidman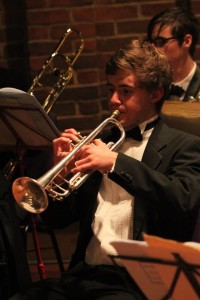 As the President of the orchestra, I am fortunate enough to work with the fantastic committee in ensuring the orchestra is well managed. The day-to-day running of the orchestra is a complex machine, that relies on all members (not just those on committee) playing their part in the team effort. In addition to being the  first point of contact for any queries, suggestions and complaints for SUSO, I am a third year historian.
Vice President: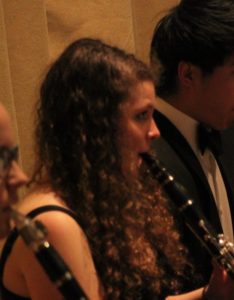 Gemma Wills
Studying geophysics at the university, I organise the SUSO Friends and Alumni Scheme and write the SUSO Newsletter, keeping regular audience members up to date with SUSO news as well as generally helping Tom out in any way I can. I love a good Mahler symphony; playing clarinet in Mahler's Symphony No. 6 with SUSO last year was a brilliant experience!
Orchestral Manager: Henrietta Cooke
My role as Orchestral Manager involves organising rehearsal and concert venues, hiring out SUSO owned instruments to other societies and events and ordering the orchestral parts for each of the pieces we play. My job entails the general smooth running of rehearsals and concerts and sending lots of emails! I am also a music student in my second year at university and an oboist in SUSO. My favourite piece we played last year is Prokofiev's 5th Symphony.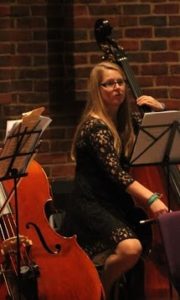 Treasurer: Beanie Barnard
I am the Treasurer for SUSO and am responsible for all the money that passes through the orchestra. As a double bass player, my favourite piece SUSO played last year was Nielsen's 4th Symphony because the timpani battle was amazing and he wrote some crazy bass lines. I study aeronautical engineering because I like aeroplanes!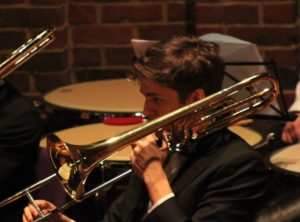 Publicity Officer: Joe Roberts
I am in charge of the publicity and advertising for the orchestra. I design the posters and programmes and put all those posts on Facebook telling you to come to our next concert! I study Mechanical Engineering at the university and my favourite SUSO piece was Sibelius Symphony No.2. For publicity enquiries, contact: joe90_roberts@hotmail.co.uk.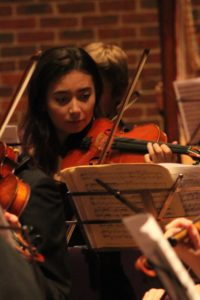 Outreach Project Manager: Serena Evans
I study music at the university and organise all outreach projects for SUSO. I liaise with local schools and care homes in the area, teaching children about the instruments of the orchestra in our 'Baby SUSO' workshops and playing short concerts for the local community. This gets children inspired to take up an instrument and interests in classical music – something they may not otherwise have the opportunity to do. My favourite piece from SUSO is our upcoming performance of Rachmaninoff's Symphony No.2 in our September Pre-Term 2016.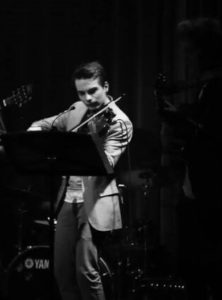 Tour Manager: Paddy Rusk
I study French, German and Spanish at the university, but still enjoy keeping in touch with music. I play 1st violin in the orchestra, and while I love playing repertoire unlike any I have played before, my favourite piece so far has been Tchaikovsky's Romeo and Juliet Overture (which happens to feature one of the greatest violin melodies ever written!). At the moment I am incredibly excited to be organising the SUSO Berlin tour for July 2017. I am looking forward to working with the orchestra and conductor on this fantastic project.
Social Secre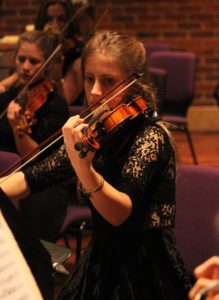 taries: Daisy Stephens  
As leader of the 2nd violins, I loved playing Shostakovich's 5th Symphony. I coordinate the SUSO Pre-Term 2016 and have great fun with Beth, organising socials. I am in my 3rd year of studying Geography with a minor in Music at the university and can't wait to play more brilliant repertoire in the future with SUSO.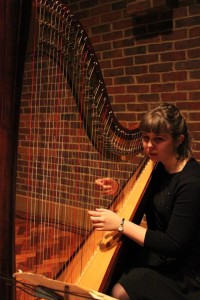 Bethan Lloyd-Thomas 
My role is to co-organise SUSO's Pre-Term orchestral week 2016 and arrange various, fun socials throughout the year. My favourite piece that we have played is Shostakovich Symphony No. 5 when I was on Pre-Term in 2014. I am now in my final year studying Music.