Leader: Kath Roberts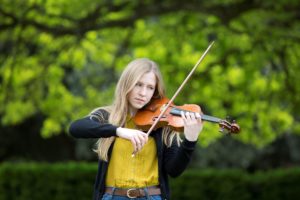 Kath Roberts is a final year music student at the University of Southampton. She began learning violin at the age of 6, and shortly began playing in ensembles at Questors Young Musicians Club. She was later awarded the 'A B Creber' prize for musical achievement from Kingston Grammar School before leaving for university. As an experienced ensemble player, she currently leads the Southampton University Symphony Orchestra and Sinfonietta, and was awarded the Student Union's 'Outstanding Performer in a Musical Society' award in 2016. Currently taught by Caroline Balding, she achieved 84 in her second year university recital, and has enjoyed playing solo recitals in Turner Sims concert hall, St Michael's Church Southampton, and Romsey Abbey. She was awarded joint first prize in the first John Ireland competition hosted by the university of Southampton and David Owen Norris. She is also part of the masterclass performance scheme run by són, Southampton's first professional orchestra. Through this, she has performed with the orchestra in Turner Sims, and St Mary's stadium (in association with Southampton Saints Football Club) where she was recorded in the string section for the Saints' song 'We are Southampton'.
Over the summer of 2016, Kath travelled to Romania to study violin with Charles Sewart (alumni of the Chilingirian Quartet) and Remus Azoitei (professor of violin at the Royal Academy of Music) at the Sinaia Music Academy, taking part in and observing masterclasses for two weeks. She then performed Elgar's violin sonata in E minor in the 'EuropaFest' concert series in Sinaia, Romania. Later that summer, she toured London with the 'Street Orchestra London', playing up to six concerts a day in venues ranging from Leicester Square to Heathrow detention center. She will tour with them again this coming Easter and Summer.
Kath has enjoyed performing with a variety of musicians, leading orchestras that have worked with artists such as Daniel Herskedal, Ivo Neame, and Pei-Jee Ng. She hopes to pursue performance at a conservatoire in her future. Aside from violin, Kath is president of the University Sinfonietta and conductor of the University Singers, in addition to holding a choral scholarship with 'Cantores Michaelis'. Currently employed by the Southampton Music Services and Hub, she teaches violin, viola, recorder, and keyboard skills, as well as running 'Introduction to Music' classes for children aged 3-5 at Questors Young Musicians Club in London
Kath is 'over the moon' to be given the opportunity to play The Lark Ascending with SUSO in her final concert as leader, as the orchestra has meant so much to her over the course of her undergraduate degree.