Leader: Malin Dekas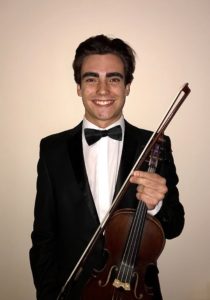 Malin Dekas is a second year Electrical and Electronic Engineering student with a passion for music. Alongside his degree and goal to help power the nation, music is a central part of his university life. As well as SUSO, he partakes in the University Wind Orchestra, SUSWO, and is the Vice President and leader of SUSinfionetta, the University Chamber Orchestra. He also loves to play his violin in his local church worship band!
After moving to the United Kingdom from South Africa in 2006, he began his musical career by starting to learn the violin. During secondary school, Malin studied violin to Grade 8 level with Christian Persinaru and flute to Diploma under Simon Dean at the Trinity Music Academy. He was given opportunities to perform and lead orchestras and chamber ensembles in top concerts halls such as the Royal College of Music, Cadogan Hall and Glyndebourne.
The University of Southampton has offered Malin great musical opportunities and he is grateful to lead SUSO in its centenary anniversary. He looks forward to seeing the orchestra grow and build on its past heritage.
Information about our audition process can be found here.