Leader: James Di Capite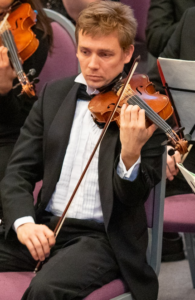 James Di Capite is a second year Acoustic Engineering Student who joined SUSO as co-leader in 2018 during his Engineering Foundation year. He began his orchestral playing with the Wessex Youth Orchestra where he was leader from 2006-2008. He then studied Music at the University of Surrey, where he specialised in composition and performance. Whilst teaching in primary education, he played in local amateur orchestras in the Hampshire area such as the Havant Symphony Orchestra and Havant Chamber Orchestra as well as being invited to play with semi-professional groups such as the Lymington Classical Players. Playing with SUSO has been an enjoyable and rewarding experience and he looks forward to the year ahead.
Information about our audition process can be found here.